Dare to be Fit (Fitness Goal)
FREE SHIPPING IN METRO MANILA
ARE YOU READY TO BE YOUR FITTEST, STRONGEST, HEALTHIEST SELF?
Have you been promising yourself that you'll start exercising regularly, eating healthy, or sleeping early, but somehow, you always get sidetracked?

Have you considered how your current health habits might be affecting your overall well-being?

Have you been listening to your body?

Goal-getters know the importance of being physically healthy and fit. When you know you're taking care of your body, you'll feel better equipped to handle anything life throws at you.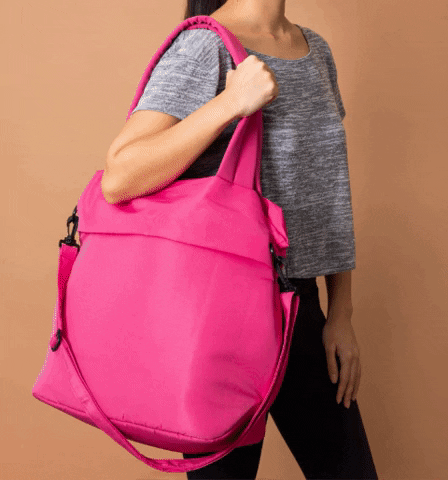 Start moving toward your health and fitness goals with our Dare to Be Fit kit!

We designed this Dare to Dream Kit to help you create good habits and reach your health and fitness goals, such as shedding a few kilos, staying properly hydrated, or learning a new sport.

Our curated selection of functional tools will inspire you to get moving and get in better shape. It also includes a workbook for planning your goals and tracking your progress.

You also get the freedom to choose your 2023 Viviamo! planner. We know you Bellas have your favorites!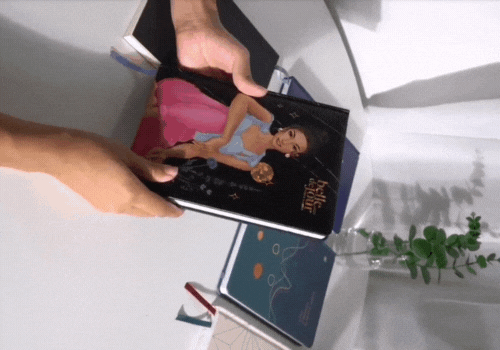 FEATURES:


DARE TO BE FIT WORKBOOK: This 47-page workbook includes a meal planner and trackers for exercise, food, and sleep. Consider it your fitness buddy!


THE RENEW ATHLEISURE CARRY-ALL: Roomy and versatile, this bag can hold your favorite water bottle, your gym clothes and shoes, your towel, and even your laptop and planner. Bags are made by Gouache, a local small business that supports displaced craftsmen from Marikina and Cogeo, Rizal. With the BDJ X Gouache collaboration, you are helping to support families of skilled artisans who have been in the bag-making industry for generations but now struggle to compete with market changes caused by globalization.


SKIP-ANYWHERE CORDLESS JUMP ROPE: With this compact, portable tool, a small or cluttered home is no longer an excuse not to exercise. If you have enough space to stand, you have enough space for a jump rope workout. Don't forget to log each skipping sesh in your workbook or your planner!


KEEP-IT-ALL BAMBOO LUNCH BOX:

Stay on top of your nutrition goals by skipping fast food and prepping your meals at home instead. This lunch box makes bringing your own

baon

a stylish affair.


DARE TO BE FIT PROMPT CARDS: Get one set of 12 prompt cards that you can use monthly, weekly, or even daily to help you build good habits that will bring you closer to your goal.


FREE 1-HOUR WORKSHOP: Join an exclusive 60-minute Goal Setting for Empowerment workshop with Belle de Jour founder Dar Ty-Nilo. She'll walk you through a fresh way of setting goals and teach you how to stay committed.


DURABILITY: All items are made of sturdy, high-quality materials to ensure that they'll last a long time even with daily use.


FSC PAPER

: As part of our efforts to care for the environment, we use only Forest Stewardship Certified paper for our planners and other paper products.
WANT TO KNOW HOW MUCH YOU'LL SAVE WITH THIS KIT?
Here's the SRP breakdown of the kit:

2023 Planner = Php 649 to Php 1,199

The Renew Athleisure Carry-All = Php 2,099

Skip-Anywhere Cordless Jump Rope = Php 249

Keep-It-All Bamboo Lunch Box = Php 299

Dare to be Fit Workbook = Php 300

Dare to Be Fit Prompt Cards = Php 249

Free Shipping (MM) = Php 150.00


TOTAL VALUE: Php 3,695 (Save Php 1,296!)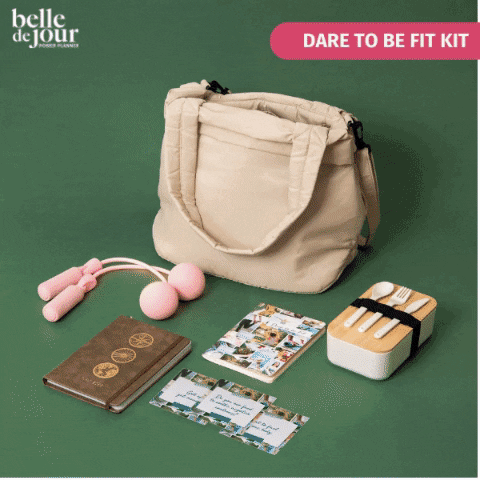 SPECIFICATIONS:

Bag: 26in x 18in x 8in exterior; 12in (depth) x 18in (length) x 13in (width)

Bag Interior: Features 5 large compartment pockets

Cordless Jump Rope: 6.5cm ball, 13.5cm handle length

Cordless Jump Rope Material: PVC, steel wire, PP, and Silica Gel

Lunch Box: 11.7cm x 19.4cm x 6.6cm; made of sustainable plastic

Workbook: 36 pages

Planner: Go to the SPECIFICATIONS Tab for the full specs of our planners

PACKAGE INCLUDES:

1 x Planner of your choice

1 x The Renew Athleisure Carry-All

1 x Dare to Be Fit Workbook

12 x Dare to Be Fit Prompt Cards

1 x Skip-Anywhere Cordless Jump Rope

1 x Keep-It-All Bamboo Lunch Box

1 x FREE Goal Setting Workshop

NOTE: Shipping of items will start in October 2022.
Customization requires an additional Php50
Customization is not valid for COD
Let customers speak for us