2023 Belle de Jour Power Planner - Leather
"I am" is a declaration of me. It speaks of me, here, right now – yet it also whispers where I began and how far I have come. Most significantly, "I am" is an expression of who I am becoming and where I am headed to. "I am" is a declaration of me.​
"Your visions will become clear only when you can look into your heart. Who looks outside, dreams; who looks inside, awakes." ― C.G. Jung ​
​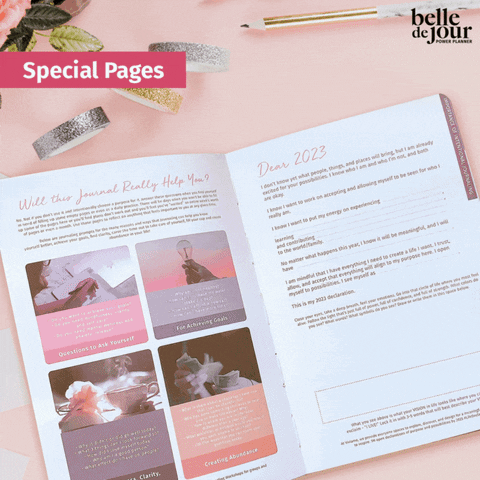 BDJ aims to guide you as you ground your mind, body, and soul to the earth; BDJ will be your companion toward balance and alignment. We hope that this 2023, BDJ stands witness to your revelation of your purest form and your chosen path for reinvention.

FEATURES:
​12 Monthly Dividers​
13 Monthly Calendars (starting December 2022)​
53 Weekly Spreads in vertical layout​
12 Special Pages with scannable QR codes to access
EXCLUSIVE mobile and desktop wallpapers and monthly motivational how-to-use videos​
68 Coupons from over 54 brands in the Perks of a Bella booklet​


Brand new and tabbed Special Page Sections that help you through:​
Vision Setting​
Journaling Prompts​
Planning Guide​
Goal Setting​


Packed with all-time favorite worksheets to help plot:​
Your Road to Your Best Life​
Your Ikigai​
To Power Up Your Year​
Your Mood​
Bills​
Cash Flow​
Feminine Needs​

Special Pages and Trackers​

Habit Tracker​ (NEW!)
Gratitude Page​ (NEW!)
Project Lists​ (NEW!)
Prosperity Consciousness​ (NEW!)
This isn't just a planner. It's a life plan.
Let customers speak for us