2023 BDJ Limited Edition: Bulk Discount + Free Customization!
If you want your

 

barkada

 to know you are their safe 

space just to be

 – why not gift the BDJ Planner to all 

your best friends? Buy 10 or 50pcs and get 5% OFF

Empower your team with the BDJ

 

Planner. Get 10% off when you get 100

 

pieces for your entire team or Get 15% off when you get 150 to 250 pieces

Imagine a team that gets it, wants

 

it, and has the power to make it 

happen. Help your people power

 

through change with the BDJ

 

Power Planner. 20% off when you

 

get 300 pieces.

Plus you'll get free customization! To input customization please fill up this  FORM
​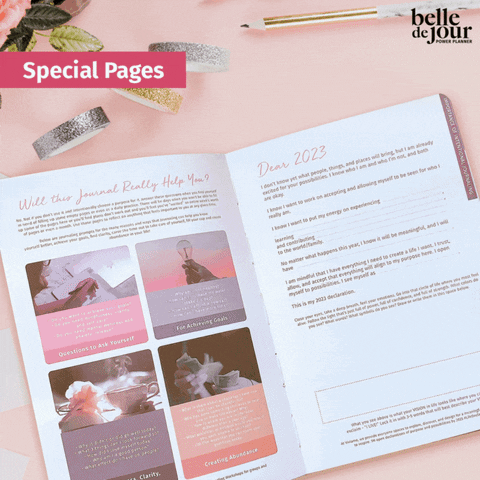 BDJ aims to guide you as you ground your mind, body, and soul to the earth; BDJ will be your companion toward balance and alignment. We hope that this 2023, BDJ stands witness to your revelation of your purest form and chosen path for reinvention.

FEATURES:

​12 Monthly Dividers​
13 Monthly Calendars (starting December 2022)​
53 Weekly Spreads in vertical layout​
12 Special Pages with scannable QR codes to access
EXCLUSIVE mobile and desktop wallpapers and monthly motivational how-to-use videos​
68 Coupons from over 54 brands in the Perks of a Bella booklet​


Brand new and tabbed Special Page Sections that help you through:​

Vision Setting​
Journaling Prompts​
Planning Guide​
Goal Setting​



Packed with all-time favorite worksheets to help plot:​
Your Road to Your Best Life​
Your Ikigai​
To Power Up Your Year​
Your Mood​
Bills​
Cash Flow​
Feminine Needs​


Special Pages and Trackers​

Habit Tracker​ (NEW!)
Gratitude Page​ (NEW!)
Project Lists​ (NEW!)
Prosperity Consciousness​ (NEW!)​

This isn't just a planner. It's a life plan.
Let customers speak for us